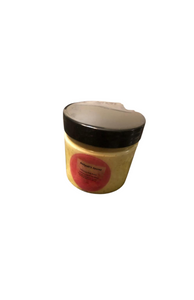 This product is handmade with natural and organic ingredients. We take our time to craft the perfect blend! This product is designed to moisturize your skin and hydrate  your hair. Instead of using multiple products to achieve results from dry or itchy skin, try a product that has it all in one. 
Ingredients are:  Coconut Oil, Olive Oil, Vitamin E Oil,  and our signature blend. 
Test an area of your skin with a small sample for irritation. The best time to use is after your body is cleansed. This product also specializes in eczema and blemishes. It can be used on children 2 years old and older. Try to use only a quarter size amount on your scalp or skin. A little goes a long way.